Thanks to career coach Kelly Bogey (@KBogeyUCF) and social media whiz Jonathan Gabriel (aka @UCFBusiness), the College of Business was the first college on campus to host a Twitter career chat.  The idea was to have Kelly and Jonathan pose questions, I provided initial answers and then others chimed in: Think of it as crowd sourcing career advice.  The event took place Friday from 11:30 to noon.  You can see the exchanges in their entirety by clicking here.
For those of you who just want the highlights, below is each question Kelly and Jonathan posed followed by my favorite comment from a participant.  If you want to read my responses, you have to go to the full Storify link impeded in the "here" at the end of the last paragraph.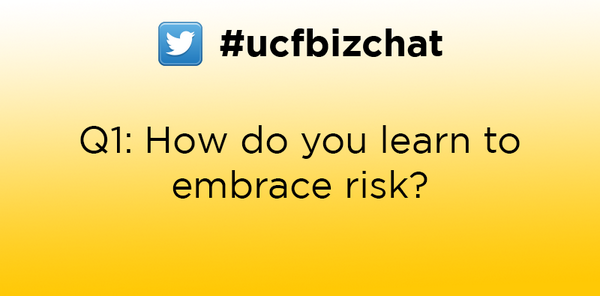 Scott Edwards

  @S_EdwardsRacing 
@UCFBusiness "All you need is 20 seconds of insane courage. 20 seconds of embarrassing bravery and I promise something great will come of it
(Scott by the way, is a race car driver. He knows something about risk.)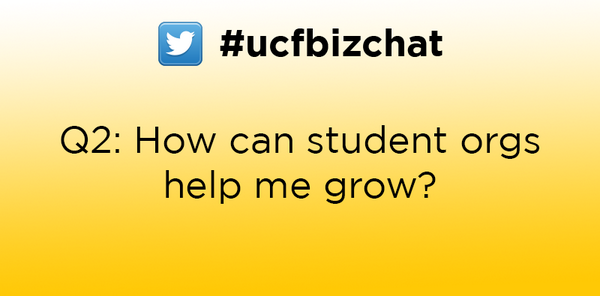 alexa☮ @365breaths
@UCFBusiness A2: exposes you to parts of the world you might not have known before! W/out student orgs, I wouldn't be studying economics!
(I admit it, I'm a sucker for econ majors.)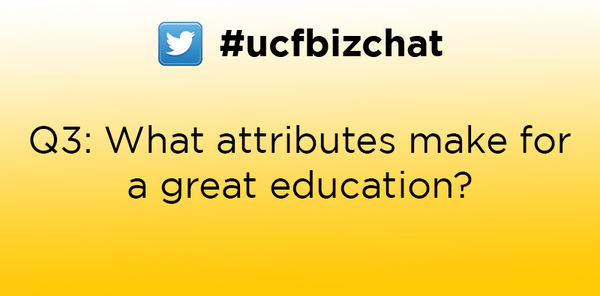 Rebekah Higgs @redheadedsweeti
@UCFBusiness surround yourself with positive people. "You are who you hang out with." So make wise choices. #ucfbizchat
(I had very different answers to this question than students… hmmm)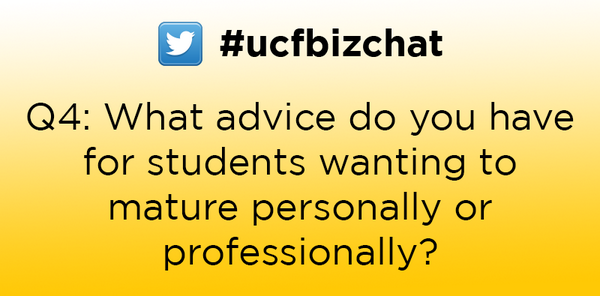 Bethany @bethanyalcordo 
A4: get with a professional or professor to mentor you! Learn from others that have the qualities you want develop #ucfbizchat
(There were lots of comments about the value of mentors.  They can't all be wrong..)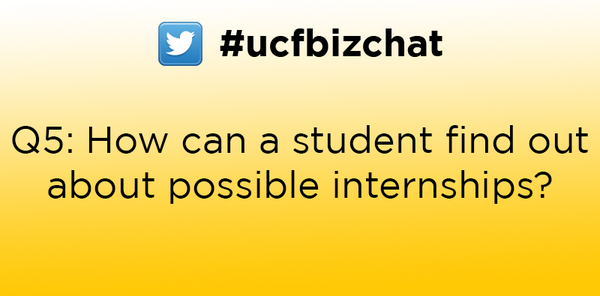 Eric Michael @WhiskeyTacoBoat 
A5 Be proactive, identify companies you admire, find alumni working there thru linkedin and reach out – most will help #ucfbizchat
(Not sure about the Twitter handle, but excellent advice…remember you are cute and cuddly.)
Again, you can read lots more by clicking on the imbedded link above.  Lots of wisdom from fellow UCF students.
So @UCFBusiness and @KBogeyUCF:   When is the next #ucfbizchat going to be?